Magazines
CURRENT ISSUE

Department of Microbiology
The Department of Microbiology incepted a science club named "Jenners Club" in the year 2004 to develop scientific bend on journals, review articles, recent happenings in the scientific world. This was extended to scientific writing skills in the form of In-house magazine "Jeevasparsha" the first ever magazine the oxford college of science saw which went on to become a yardstick in its own realm. It started as biannual, followed which it has become an annual magazine under the aegis of The Oxford Society of Microbiology. The magazine helps students to pen down their thoughts and develops research aptitude and scientific temper.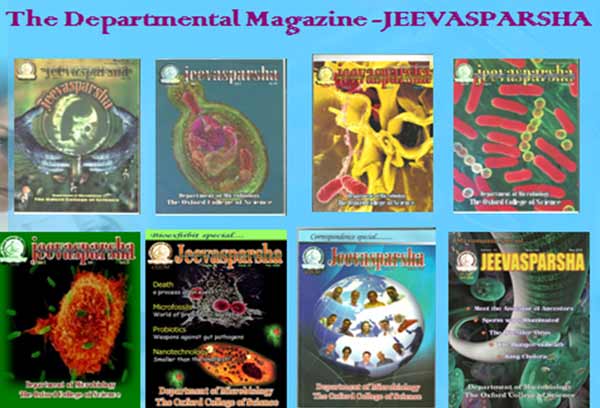 Department of Biotechnology
The Department of Biotechnology releases a Biotechnology magazine every year. Biovistas is an annual magazine with a baseline "Unlocking the Mysteries of Life". It is an attempt to encourage the students to gain knowledge in the newer areas of Biotechnology. As it covers topics on research, career and enterprise, latest science news etc it throws light on the various opportunities available to the students.