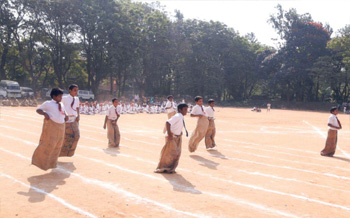 A Child-friendly interview is conducted in the presence of parents.
Primary, Higher Primary and High School Classes:
For I Std–age 5 years 10 months to 6 years as on 1st June of the year of admission and should have completed Kindergarten.
From 1st Std to 10th Std. The language combination is as under:
I Language : Kannada
II Language : English
III Language : Hindi
For VIII Std: The candidate should have passed VII std examination. The candidate should produce the Transfer Certificate from the institution last studied duly counter signed by the concerned Block Educational officer.
Procedure:
Based on the performance in a "Student – Friendly" conceptual and skill based assessment questionnaire, followed by an interview with parents and the pupil.