Departments

Department of Psychology
Psychology is the study of human behaviour. A filed, that is committed in observing, understanding and predicting human behaviour. The field has given great importance in promoting mental health and consistent efforts have been made in bringing awareness about importance of metal health to all around the globe.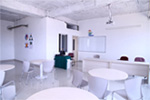 Dept. of Psychology always focused on holistic development of students in building their skills, talents, converting their weakness into strengths and also giving ample opportunities to explore themselves in the field of psychology. The department has witnessed success of many students in the field of psychology. Applied and interdisciplinary approach has created great amount of job opportunities to students. The wide opened positions in society have increased interest and passion towards psychology among people. Its relevance to the society is very impactful.

Dept. of Psychology, focuses on inculcating interest among students about research activities. Students have been trained and encouraged to present papers in National and International Conferences under the able guidance of faculty. Students are trained right from their baby steps towards psychology to paper publications. Workshops, Seminars, Awareness Programmes have always added value in their learning as well as in their profiles. Meaningful and fruitful experiences with the collaborative efforts of faculty and students have made the Dept. of Psychology very successful.