Principal's Message

The function of education is to teach one to think intensively and to think critically. Intelligence plus character – that is the goal of true education- said Martin Luther King, Jr.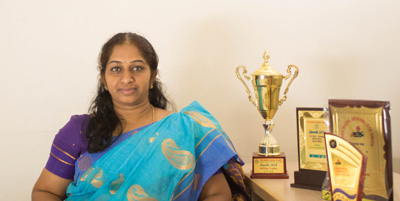 Greeting! from The Oxford College of Arts. Our college has been aiming in building greater citizens and contributing to the society. Humanities in academics has always been designed to hold our roots, study, rationalize and contribute to the society. Humanities in our college has always built on its roots and emphasized on developing and maintaining positive relationships with students. Over the years, the college has proved its excellence through the success of students in various streams. Participation in various events and awards has been adding feathers in the hat of students and college. Hosting events in college have built organizational skills and boosted their talents in increasing their success rates. Social activities would increase their civic sense. Uniqueness being the trade mark of Arts College, has made efforts in keeping up the brand image created for the college. Overwhelming with talents, intelligence, creativity, humility, respect, smartness, gratitude, supportive, grit and humanity defines the quality and functioning of college and the students filled in college. Effective and efficient teaching-learning process has benefited students not only in academic, also in co curricular and extra curricular activities. I am proud of the significant accomplishments of our students and faculty in making education a fruitful experience in our College. I assure on the greater experience in our College with lasting impact on lives associated. I congratulate each and every individual on choosing our College.
All the Best!
Regards,
Mrs. Mamatha K
Principal
The Oxford college of Arts
Prinicpal's Profile:
A multi-faceted personality with many a talent, Ms. Mamatha K holds an MSc in Psychology from Bangalore University. Her area of specialization is Clinical Psychology. An ardent fan of Kannada literature which she has pursued at the under graduate level and continues to be a prolific writer of Kannada poetry.
Ms. Mamatha has over 10 years of teaching experience, at The Oxford College of Arts. She has been instrumental in laying the foundation and building The Oxford College of Arts to the heights that it has reached today. It is her perseverance and determination that has nurtured the College to its current stature.
A keen enthusiast of dance and drama, she has ensured that extra-curricular activities are given equal importance at the College. She has almost single handedly conceived and executed many of the cultural events that are an integral part of the College today.
Ms. Mamatha is pursuing her PhD, from Jain University and her thesis topic is "Effectiveness of Assessment and Learner Centered Character Strengths Model among Middle School Children". She has presented several papers in national and international conferences which have been published as well. Many under graduate students have presented and published papers under her guidance. Her love for her subject has seen her make time to be a part-time counselor.
Ms. Mamatha's positive attitude and tireless spirit is the guiding force, motivating the students and The College to achieve excellence.