MEDICAL SURGICAL NURSING
Medical Surgical Nursing deals with the diagnosis and treatment of human responses to actual (or) potential health problems in holistic approach. The unique characteristics of medical surgical nursing is understanding the underpinning of disease pathology in all the aspects of human body.
Departmental activities: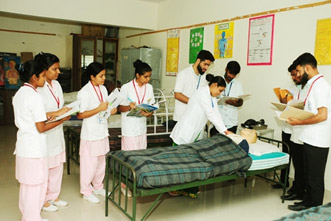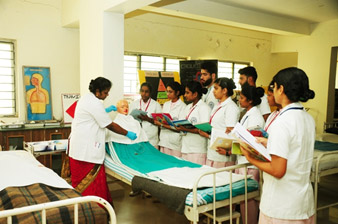 Implementing the academic & clinical requirements as per Indian Nursing Council and University norms.
Conducting in-service education for students and faculty members by lecture and demonstrations, symposium, and panel discussions.
Helping out the students to complete the clinical requirements by care plan, case studies, clinical presentation, incidental teaching, return demonstrations, and health education.
Conducting guidance and counseling for students who need improvement in their academic & co-curricular performances.
Encouraging the students to actively participate in blood donation camp, eye camp and other National Health programmes.
Motivating the students to conduct various research activities.
Preparing the students to adopt recent clinical advancements in medical surgical nursing.
COMMUNITY HEALTH NURSING
Community Health Nursing must begin with an understanding of what we mean by health and disease. Today health is recognized as a fundamental right of every human being. In this concept, community health nurses are the backbone of the health care delivery system worldwide. Nurses take the health care services at the doorstep of the people, whose main motive is to prevent diseases.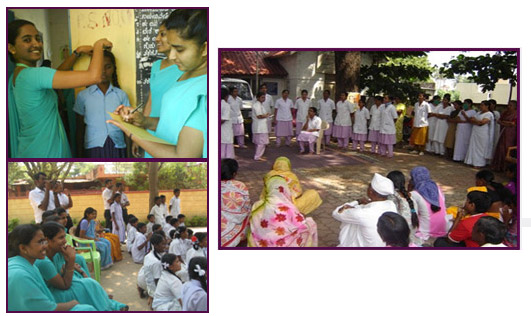 Departmental activities:
Facilitating clinical experience for UG & PG programmes.
Providing community based family oriented comprehensive nursing care to individuals and groups.
Collaborating with public health agencies in delivery of health care services to vulnerable groups.
Conducting special programmes and participate in existing project work by UG & PG students – that are socially relevant to the health care needs of the individuals & groups in the community.
Conducting mass health awareness campaigns regarding communicable and non- communicable diseases, Immunizations, Family planning, Nutrition, Personal & Environmental hygiene, etc.
Participating in various National health programmes and research activities.
PEDIATRIC NURSING
Pediatric nursing is the specialized area of nursing practice concerning the care of children during wellness and illness. Pediatric nursing practice is concerned with:

Well being of children towards optimal functioning.
Integration of developmental needs of children into nursing care with holistic approach.
Integration of scientific principles and theory related to child health nursing practice.
Focusing on family centered care and atraumatic care.
Interdisciplinary team approach to plan and provide comprehensive childcare.
Focusing on the ethical, moral and legal problem regarding childcare.
Departmental activities:
Conducting theory classes as per University norms.
Clinical nursing practice at specialized child care hospitals.
Evaluation of students performance in theory as well as clinical by unit tests, assignments, care plans, case studies, clinical presentations and term examinations.
Participating in National Immunization programme.
Conducting school health programme at regular intervals.
Assessment of under five children at community areas.
Visit to Crèche, Anganwadi, Well Baby Clinic and conducting health awareness programmes.
Visit to Remand home, Certified school and Physically, Mentally and Socially challenged childcare centers.
Conducting workshops and seminars on recent trends and concepts.
Encourage students to conduct research activities.
OBSTETRICS AND GYNAECOLOGICAL NURSING
Obstetrics and Gynecological Nursing department is a specialized area, which deals about pregnancy, labour, puerperium and diseases associated with perinatal period, and diseases related to female reproductive system.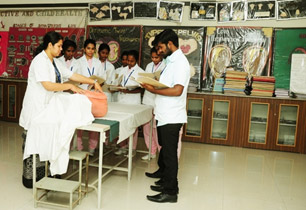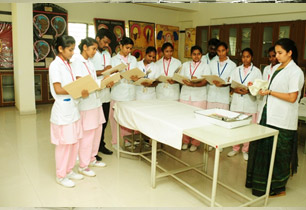 Departmental activities:
Conducting theory & practical classes as per apex body requirements.
Evaluation of student performance by class test, unit test, term examinations, assignments, etc.
Conducting clinical rounds, bedside clinics, demonstrations, incidental teaching, health teaching etc.
Helping the students in completion of their clinical assignments like – care notes, case studies, health teaching, clinical presentations, ward rounds etc.
Evaluation of clinical performances once in two weeks.
Encouraging and conducting research activities.
Rendering family centered maternity care in rural and urban population.
Celebration of breast feeding week and motivation of public for importance of breast-feeding.
Celebration of Women's day and educating public about women's right, women's freedom and women's empowerment.
PSYCHIATRIC NURSING (MENTAL HEALTH NURSING)
Psychiatric Nursing department is comprised of a team of dedicated professionals whose primary objective and philosophy is to impart education related to mental health, insight into mental illnesses and its prevention and management. Related clinical practice is being made available to the students and encouraging them in initiating research as and when required.

Departmental activities:
Mental health and psychiatric nursing education is imparted by classroom teaching, seminars, panel discussions, workshops etc. by using appropriate audio visual aids.
Students are evaluated on a regular basis through tests and other evaluation methods.
Theoretical knowledge will be correlated in the clinical areas and the students will experience the real situation and apply the skills acquired.
PG students are posted to NIMHANS and UG students are posted to CADABAMS for clinical experience.
Students are encouraged to actively involve in promotive, preventive, curative and rehabilitative aspects of psychiatric patients.
Students will have firsthand experience by making field visits and participate actively in promoting mental health education through role-plays etc.
Students are encouraged to initiate research and participate in research conducted in the hospital & institution.
Students are encouraged to publish their work and utilize the results for the betterment of the society.
Celebrate World Mental Health Day every year, and disseminate mental health information to the public.
Conduct workshops on stress management techniques for staff and students.
Organize counseling services for students.