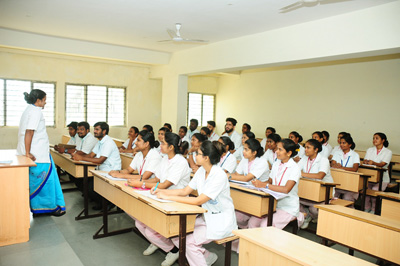 VISION
Excellent nursing education and service systems for total health care nursing needs.

Achieve outstanding educational outcomes by graduates and post graduate students who will be recognized for excellence, leadership and compassionate care.

To heal and comfort the suffering humanity with compassion and respect; and to be recognized as a global leader in Nursing education and research.

Equip our students with higher standards of education, practice and ethics.

Fostering global competencies, inculcating value system among learners.
MISSION
Learner centered health care nursing education and client centered service to meet the regional, national and global nursing needs.

To develop nurses who are highly sensitive to the health needs of human beings and capable of providing best quality nursing care with admirable social skills and human values.

To foster synergy and integration between research, education and practice by promoting interdisciplinary collaboration and partner.