Postgraduate Diploma in Cellular and Molecular Diagnostics
Scope of Cellular and Molecular Diagnostics

The Global Invitro Diagnostics Market accounted for $61,103 million in 2016, and is estimated to reach at $84,647 million by 2023, growing at a compound annual growth rate
(
CAGR) of 4.6% from 2017 to 2023.
According to the new research report "Indian Diagnostic Services Market Outlook 2020", the diagnostic services market is expected to continue growing at 27.5% for next five years. This growth is likely to be driven by improving healthcare facilities, medical diagnostic and pathological laboratories, private-public projects, and the health insurance sector. Moreover, with the rise in health consciousness in the society and the rising burden of chronic diseases, this market will swell to approximately INR 860 Billion in revenues market by 2020.
The laboratories are rapidly expanding using various business models. The market is driven by increasing number of lifestyle diseases, rise in life expectancy due to preventive healthcare practices and increasing medical tourism. In India, the diagnostics and pathology laboratories comprise more than 100,000 labs. The increase in the number of hospitals and healthcare facilities, development of healthcare infrastructure and the advancement of medical equipment propelled the growth of this industry. Further, the increase in the complexity of diseases has prompted the industry to provide better facilities for diagnosis and sample collection. The investment in this sector is very huge and is projected to grow as the indigenous diagnostics industry is expanding exponentially.
CMD domain is not offered as a course by any institutes/universities in India. The recent emergence of separated niche for 'molecular and immunodiagnostic' sector has created a tremendous need for human resource skilled in the diagnostic specialisation. The ever increasing super-speciality hospitals and oncology hospitals has skilled manpower crunch. The Life Sciences education at both graduate and postgraduate levels lack practical exposure and infrastructure.
Further, the CMD syllabus has been restructured to be in tune with the latest developments and technological innovations, and has been customised in consultation with the experts from industry and clinical setting, to cater to the needs of the ever growing hospitals and diagnostic centres.
The students trained in CMD and placed earlier as a part of BTFS program during the years 2011-2016 is an excellent testimony for this with 66% of them placed in the industries and most of the remaining advancing for doctoral research.
Course Highlights
The Postgraduate Diploma in Cellular and Molecular Diagnostics offered by the college would commence upon the notification from KBITS with a maximum student intake of 20.
The course is of 12-month duration that includes 6 months of training in the institute and the next 6 months of industry internship in reputed biotech companies where the students would take up a project that gives them the exposure to the modern technical skills and practices in the industries.
The syllabus of the intensive training program has been framed in collaboration with the industry experts to keep pace with the latest technology and industrial practices.
Emphasis on guest lectures and workshop by industry experts
Industry tie-ups and MoUs to enhance academia-industry interaction
The selected students through Karnataka-Biotechnology Aptitude Test (KBAT) conducted online by Karnataka Innovation and Technology Society (K-tech) would be eligible for a monthly fellowship of Rs 10,000 for 12 months supported by K-tech BITS, Government of Karnataka and the Department of Biotechnology, New Delhi.
The centre is affiliated to the Bangalore University and the students upon successful completion would be eligible for the PG Diploma awarded by the university.
The students would also be examined and certified by the Life Sciences Skill Sector Development Council (LSSSDC), a statutory body under National Skill Development Council (NSDC), New Delhi, and also recognized by the biotech companies.
The Oxford College of Science is also equipped with a dedicated Entrepreneurship Development Cell set up by the Department of Biotechnology which provides mentorship and assistance for establishing Start-ups in the biotech sector.
Dedicated placement cell to guide and prepare students for interviews that incorporates training in personality development, mock interview
Eligibility
Candidates who have passed M.Sc. (Biotechnology, Microbiology, Biochemistry, Bioinformatics and other Life sciences related), B.E./B.Tech- Biotechnology or Bioinformatics, B.Pharm, B.Sc. (Agri), B.V.Sc or 4-year degree courses in any branch of Life Sciences as notified by KBITS are eligible for the program.
About the Institute

The Oxford College of Science, since its inception in 1994 has grown from strength to strength and today is recognized for its excellence in infra-structure and academics. The institution offers graduate and postgraduate programs and more than 2000 students are being groomed here to excel in their area of specialization. The Oxford College of Science is accredited by NAAC with 'A' grade, International Accreditation Organization (IAO), approved by AICTE and has been recognized by UGC under section 2(f) and 12(B). Relentless focus on quality of education over the years has resulted in the college achieving the No. 2 rank in Karnataka and No. 8 in India in the India Today-Nielson survey, 2017. This is also corroborated by the No. 5 in Karnataka and No. 32 in India ranking accorded by The Week-Hansa Research Survey.
Over the years the college has received several research grants such as Centre of Innovative Science & Engineering Education (CISEE), Karnataka Fund for Improvement of Science and Technology Infrastructure (K-FIST) from VGST, Department of IT, BT, S & T, Government of Karnataka. Several UG and PG Science students have received grants to pursue innovative science projects under Science Projects in College Education (SPiCE) scheme from VGST, GoK. Additionally, Biotechnology Finishing School (BTFS) which was established five years ago has now been recognized under Biotechnology Skill Enhancement Program (BiSEP) by KBITS, GoK. A large number of students and faculty have presented papers at both National and International Conferences and many have published their work in research journals of repute. Recognizing the vibrant research culture, DST, GoI is supporting the college under its FIST program.
The institution owes this astounding progress to the dedicated Management and a committed teaching staff. Within an intensely competitive environment, the college has adopted a dynamic, global, high quality: creative and communicative approach in education, as well as research and development. Keeping abreast with modern developments, the institution is constantly reinventing itself and renovating its physical infrastructure as well as its research and education facilities. The Oxford College of Science proudly stands on a sprawling new campus with a 6-storeyed building of 2.85 lakh sq.ft area in HSR Layout, Bangalore. The College is affiliated to Bangalore University.
Why BiSEP – Cellular & Molecular Diagnostics @ The Oxford College of Science?
In-house faculty with industry experience from the relevant domain
Compulsory In-house project during course work of first 6 months
To keep abreast of the advancements in the sector, experts from the industry are invited to deliver talks
Focus on student oriented workshops and hands on training in the advanced techniques relevant to the domain
Dedicated Student Placement Cell for providing assistance to students in industry internship and placements
Exposure to Entrepreneurship Development Program
Dedicated Entrepreneurship Development Cell which provides mentorship and assistance for establishing Start-ups in the biotech sector.
Infrastructure at The Oxford College of Science
The College is permanently Affiliated to Bangalore University, Bangalore, Recognized by Govt. of Karnataka and approved by AICTE New Delhi
Well-stocked spacious and a library with books, scientific journals and an e- library facility and audio visual aids with INFLIBNET and DELNET facility.
Centrally Air conditioned Computer laboratory with latest Softwares and wifi internet facility.
The gallery classrooms are well equipped with latest teaching aids and audio visual facilities.
Well equipped labs with Cell Culture and Fluorescence Microscopy facility.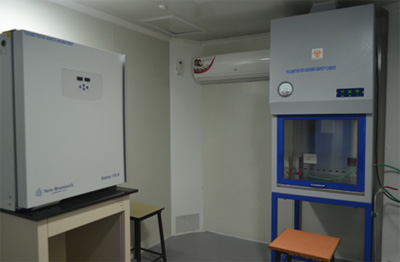 Cell Culture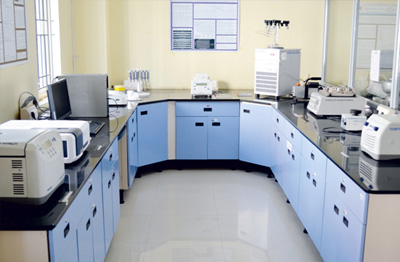 Molecular Biology Lab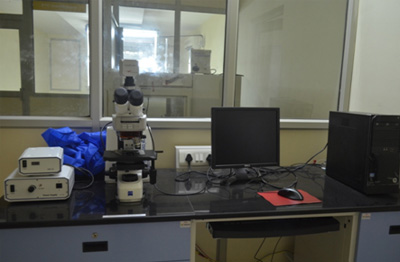 Fluorescent Microscope
BiSEP Coordinator
Dr.R.Kavyashree, M.Sc., Ph.D., F.S.Sc., FSAB, JF
Faculty Profile
| | | | | | |
| --- | --- | --- | --- | --- | --- |
| SI No. | Name | Qualification | Industry Experience | Teaching Experience | Industry Specialization |
| 1. | Dr.Nirmala Nair | M.Sc.Ph.D. | 14 yr | 03 yr | Pharmaceutical Development |
| 2. | Dr.Ashok Kumar K.S. | M.Sc.Ph.D. | 03 yr | 08 yr | Antibody Development, Cell based Assays |
| 3. | Mr.Arun Kumar S.T. | M.Sc. | 10 yr | 01 yr | Molecular Diagnostics |
For more details on BiSEP programme visit
http://www.bisep.karnataka.gov.in/