B.Sc. Biochemistry B.Z.Mb (Biochemistry, Zoology, Microbiology)
It is a 3 year, 6 semester full time undergraduate degree course, affiliated to Bangalore University, Bangalore and recognized by Govt.of Karnataka.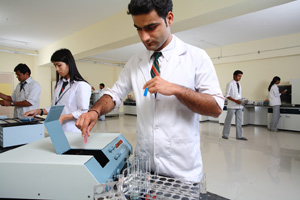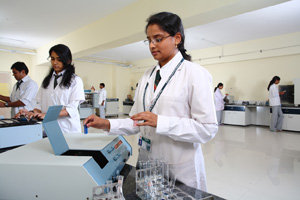 Specific Objectives of the course are:
To enlighten the students with theoretical knowledge, relating to molecular structure with biological functions.
To enhance the practical skills in chemistry and zoology.
To improve the versatility of the knowledge acquired and their application in the field of diagnostics, industry, microbiology and biotechnology.
Eligibility criteria
Should have cleared the Pre-University examination of Karnataka, Pre-University or an equivalent examination conducted by any other board/ Pre-University or 10+2, equivalent examination should have minimum 35% or pass marks aggregate in PCB/CBZ.
Admission procedure
Admission to the course is decided by the marks obtained in the qualifying examination, followed by personal interview.
Syllabus and Examination procedure
As prescribed by the Bangalore University. The prospectus will give you detailed information.