LIBRARY (The Oxford College of Science, Business Management, Arts and Law)
Library is the place of knowledge open for academicians and students. The library has more than 20000 volumes of books on a variety of subjects. Utmost care is taken in developing resources for each department. Our Library subscribes to more than 68 International and National Periodicals and has a good collection of latest CDs on various fields. The house keeping operations of the Library is fully automated with libsoft 9.0 Library Automation Software.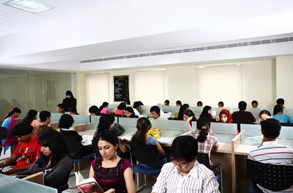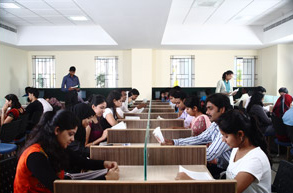 VISION & MISION
Our Vision is to provide world-class knowledge resource that not only caters to the curricular requirement but also promotes intellectual enquiry and research. We propose to achieve this through superior quality service consistently.

HIGHLIGHTS FACILITIES
Covered area 1,250 sq. mt. with comfortable Furnitures
Internet facility
IEL-Online E-Journal Access through INDEST-AICTE Consortium.
OPAC facility
No. of books - more than20000 and No. of Titles 17985, 68 periodicals including 25 foreign technical journals and magazines from professional societies such as ACM, IEEE, ASME and magazines like PC magazine, Dr. Dobb's. Linux, etc.
Fully computerized library information system with Bar coding of books and ID cards to enable laser scanning of issue, return and stock taking.
Separate section for Text and Reference books and Periodicals.
The Library functions from 8:00 am to 6:00 pm on all working days. In addition we also have individual departmental libraries holding a good stock for all the departments.

NON-BOOK MATERIAL RESOURCES
The collection comprises more than573CD-ROMs. Subjects range from Computer Science, Electronics and Businees Management, Computer Applications, Mathematics and Science and humanities, General books.

FURNITURE AND SEATING CAPACITY OF LIBRARY
300 students at a time can be allowed for use library dimension

INTERNET ACCESS
4 Mbps Reliance Internet connection is provided for access to the electronic resources
There are more than 8 computer systems available in the E-journal section to access Internet. Internet is available to the students and faculty from 9.00 AM to 6.00 PM.

LIBRARY AUTOMATION
The house keeping operations of the library is fully automated with IDENIZEN Library Automation Software.

MEMBERSHIP
All the students, faculty members and employees of the Institute are eligible for the membership of the library.

LIBRARY SERVICES
Lending service
E-Books Access
Reference service
Information Retrieval/Internet Print out.
Service for career & Placement Aids
Referral Service
OPAC
SDI Service
Current awareness service
Inter library Loan Service
Reprography service
Multimedia based User Orientations.
Internet Access
Maintaining Question Bank
E-Journals (Full text) Access
Book Bank for SC/ST students

OPAC (ONLINE PUBLIC ACCESS CATALOG)
The Quickest way to locate resources of Books, CDs, project reports and Bound Volumes in the Library is to search the library catalog (OPAC)

INSTUTIONAL MEMBERSHIPS OF OTHER LIBRARIES
IIM, Bangalore
IISc, Bangalore
HUMAN RESOURCE
Library is having sufficient number of experienced and qualified staff headed by Umesh.m.n,M lib, M phil.