Msc Physics
Duration of Course: Four Semesters (2years)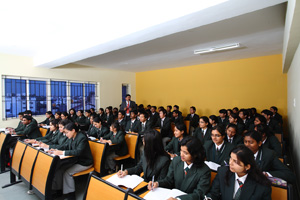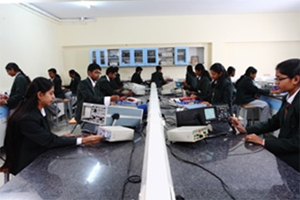 Scope Of Physics
The Department provides basic physics foundation through Lecture and Laboratory that helps the student for their career both in Research and Technology. Physics is the fundamental science which explains almost every aspect of world from small particle like atom to great cluster of galaxies .Hence the employment prospects for physics student are excellent both in India and abroad. A degree with physics is like a gateway to enter into the world class institutes like IISc, IIT, ISRO, BARC, DRDO,IIA etc.

The MSc Programme includes classical subjects in physics like Classical Mechanics, Quantum Mechanics, Mathematical Methods in physics, Electronics, Statistical Mechanics, Electrodynamics, plasma physics and Computational physics as some of the general topics,. Students can opt for special papers like Material Science, Nuclear Physics, Astrophysics… in their second year.

It is a 2 year, 4 semester full time postgraduate degree course, affiliated to Bangalore University, Bangalore and recognized by Govt. of Karnataka

Career Opportunities:
Today's World is running by Technology which is driven by the Research in Basic Sciences, A M.Sc degree in physics is a gateway to enter into Research in many Institutes. Bangalore is the Centre for many Research Institutes like IISc. ISRO, IIA, RRI, DRDO, NIAS and JNCASR .so students can join these Institutes after the completion of their M.Sc.

There are many opportunities available in IT field for M.Sc Physics graduates. Many IT companies such as Infosys, Wipro and TCS are recruiting M.Sc Physics graduates for software jobs. They can also get jobs in Energy Plants. Another job available for these graduates is Technician in Electronic Industry. They can apply for jobs in many companies in automobile industry. Some of those companies are Maruti Udyog, TATA Motors and Tech Mahindra.
There are also many opportunities available for M.Sc graduates in Government sector. They can apply for jobs in Scientific Research and Development Organizations such as Physical Research Laboratory Ahmadabad, Saha Institute of Nuclear Physics Kolkata and Nuclear Science Centre New Delhi. They can also apply for various jobs in government organizations given below.
Bhabha Atomic Research Centre (BARC)
Oil and Natural Gas Corporation (ONGC)
Bharat Heavy Electricals Limited (BHEL)
National Thermal Power Corporation (NTPC)
Tata Institute of Fundamental Research(TIFR)
they can go for teaching in government or private institutions.
They can also apply for the competitive exams conducted by Union Public Service Commission such as IFS, IPS and IAS.
ELIGIBILITY
Candidates who have passed the BSc degree with Mathematics and Physics as the cognate subjects at Degree level from the Recognized University, and have secured more than 50%. For SC/ST candidates the minimum of 45% is required in the subjects for all the three years taken together.

Admission procedure
Admission to the course is decided by the marks obtained in the qualifying examination, followed by personal interview.

Syllabus and Examination procedure
As prescribed by the Bangalore University. The prospectus will give you detailed information.