M.Sc. Biochemistry
It is a 2 Year, 4 Semesters full time master degree course, affiliated to Bangalore University, Bangalore and recognized by Govt. of Karnataka.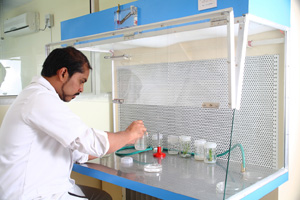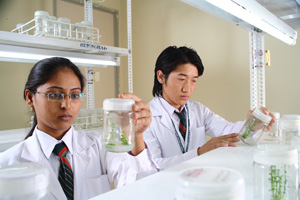 Bio-Chemistry is for the most part, a science of twentieth century. In the modern development of the subject, the scope of classical Bio-Chemistry has between it and other chemical and biological disciplines have become distinct. Indeed, information and understanding have increased exponentially in the field of Biochemistry. It holds promises in areas like Clinical Diagnostics, Pharmaceutical Industry, Industrial Production of Enzymes, Fermentation Industry, Food and Dairy Industry.
A golden opportunity awaits these students in the areas of research and academics in fields as varied as molecular biology, genetic engineering, Neurobiochemistry, Enzymology, Endocrinology, Oncology, and Clinical Bio-Chemistry. The course encourages practical work based on research, thus creating a platform for advanced research. There is a scope for self employment in diagnostic laboratories
Specific Objectives of the course are:
To provide in-depth knowledge of how the chemical in the plant and animals are made and regulated by teaching the metabolic pathways in health and disease.
To train students in many independently to be employed by pharmaceutical , fermentation industries, Food and dairy industries, diagnostic labs, and research institutions in India and abroad.
To provide an oppurtunity to think independently by assigning seminar topics as they are the future scientist to be able provide solutions to many incurable diseases.
Eligibility criteria
The candidate must have secured 40% marks in the aggregate and have studied Chemistry and Bio-chemistry securing 50% marks in this subject at the B.Sc level and studied Biology at 10+2 or Pre University level.
Admission procedure
Admission to the course is decided by the marks obtained in the qualifying examination, followed by personal interview.
Syllabus and Examination procedure
As prescribed by the Bangalore University. The prospectus will give you detailed information.