Master of Business Administration ( M.B.A. )
---
About the Department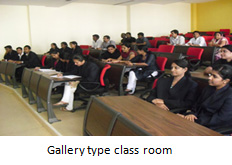 DEPARTMENT OF MANAGEMENT STUDIES
The Department of Management Studies started in the year 2001 with an intake of 60 students, approved by AICTE, New Delhi and affiliated to Visvesvaraya Technological University (VTU), Belgaum. At present, the intake is 180 students.
The Department offers dual specialization in the following streams:
Gallery type class room
Finance
Human Resource Management
Marketing
The Department has been recognized for its excellence and got intake increased to 180.Also got recognition approval for VTU Research centre to cater PhD programmes.

The MBA Program at our Department is unique with 100% case-based learning, state-of-the-art infrastructure, emphasis on acquiring practical skills, establishing strong industry interface culminating in getting excellent final placements for all its MBA graduates.Highly qualified, rich experienced and dedicated faculty team is working towards excellence by creating and offering various expertise in the forms of various clubs such as Human Resources, Finance, Marketing and Case study clubs. Through the clubs students get exposure in presentations and showcasing their talents. Here at clubs, we offer innovative and globally accepted projects and great opportunities for all-round development of our students to transform them to leaders of the future.
The Department organizes regularly expert lectures, workshops, faculty development programmes, Management development programmes and also soft skill programmes by visiting Faculty and eminent personalities from the corporate. Seminars and Workshops are organized on a regular basis and corporate exposure is facilitated during vacation period to prepare competent Management Professionals in their respective fields of interest.

VISION AND MISSION
Vision: To impart value based management education to the students, to nurture and enhance their competencies and to prepare them to face the challenges of industry, society and country.
Mission: The Department aims to provide integrated knowledge and demonstrated ability to the students and to groom them towards building their careers as well equipped professional. To foster a passion for learning, creative thinking, leadership skills that helps in developing entrepreneurial abilities among the students.
OBJECTIVES
The prime objective of our MBA Programme is to impart education and training to students in various disciplines of management, to foster the development of cognitive, affective and attitudinal skills among the student community.
To develop conceptual, analytical and interpersonal skills among the students that will help foster the development of essential attitudes necessary for becoming competent managers.
To nurture the students to achieve academic excellence through systematic plan of activities that includes student centric learning.
Encouraging value based education among students through proper guidance and mentoring that will help them to develop as good professionals.
To promote the entrepreneurial capability among the student community.
Augmenting the employability skills of our students by providing soft skills development programmes