CHAIRMAN'S MESSAGE
---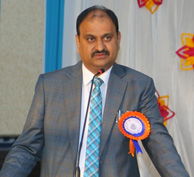 Education is not filling of a pail, but lighting of fire.
-W.B. Yeats

Education is the premise of progress. We strive relentlessly to nurture accountable, responsible and futuristic citizens wrapped with ethical and moral values. We provide a wholesome environment enabling children to permeate into varied spheres be it cultural, sports, the learning that goes beyond the realm of academics. We believe in empowering children to pursue untrodden paths and usher a new era full of unknown challenges.

The Oxford Schools embark on the mission of creating an edifice of exemplary learning.
Sri SNVL NARASIMHA RAJU
Chairman, The Oxford Educational Institutions