Bio-Technology
---
About Department

Biotechnology Engineering is a multi-disciplinary having applications in multiple fields including Health care, Agriculture, Food Industry and Environmental issues. It has encompassed all the fields of life and technology, and is currently a multi-billion enterprise. This rapidly advancing branch was initiated in our college in the year 2003. Since then, the Department is growing vertically in terms of Academics, Research, Co-Curricular and Extracurricular activities facilitating the all round growth of students. The Department is permanently affiliated to VTU and has been accredited by National Board of Accreditation (2008) & NAAC. The Department has bagged ranks in both UG and PG programs.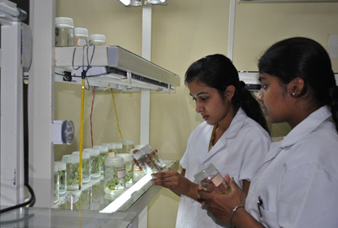 The Department has excellent infrastructure involving well maintained classrooms and highly equipped laboratories which are designed for today's technological challenges. The Department is doing outstanding research work in VTU approved Research and Development (R&D) Centre. The department has established unique research facilities, viz., Centre for Natural Product Research (With financial assistance from VTU; AICTE, New Delhi & DAE-BRNS, DRDO, New Delhi); Center for Computational Medicinal Chemistry in Drug Discovery (with financial assistance from Vision Group of Science and Technology, Govt. of Karnataka) and Centre for Bioremediation (With financial assistance from Naval Research Board, DRDO, New Delhi & DBT-BIRAC, New Delhi). In these R&D centers, several funded research projects have already been conducted and continuing. Research grants have been received from various national and state government funding agencies like DBT-BIRAC, DRDO-NRB, DAE-BRNS, AICTE, VGST-KFIST, VTU, KSCST and NIF. These projects are instrumental in strengthen our core research activities which are beneficial to both students and staff. They have also generated sufficient amount of funds to equip our department with necessary instrumentation and other requirements.
Highly qualified and seasoned faculties who are capable of nurturing the overall growth of students are also actively involved in conducting various programmes and activities in the Department. The department is proud to state that, a domestic patent (Application No. 20171042005) is filed and a Bioremediation product PETROZAP is developed to address Bioremediation of hydrocarbons and oil spill with financial assistance under BIRAC (BT/AIR0558/PACE-15/18).
VISION
Aspiring to be recognized as a premier source of outstanding graduates, who in turn will help their enterprise attain and sustain industrial and societal competitiveness.
MISSION
To create and disseminate knowledge by being accountable for developing and motivating our pupils to attain academic excellence and industrial competency. With our focus on teaching and learning & research, we engage in helping our students to face challenges in the field of Biotechnology
PROGRAMME EDUCATIONAL OBJECTIVES (PEOs)
To endow students with basics of mathematics, life sciences and engineering necessary to analyze and solve scientific problems.
To provide students with the necessary instructions and relevant practical experience combined with exposure to and adequate training to face basic challenges in Biotechnology.
To inculcate scientific temperament in students to pursue and engage in research projects related to health, food and environment.
To prepare students with efficient communication skills, team spirit and leadership qualities and awareness of professional conduct and mould them into responsible and competent engineers.
To empower students to work in scientific environment with ethical values and social responsibilities.
PROGRAM SPECIFIC OUTCOMES (PSO)
Graduates will gain and apply knowledge of Science, Biotechnology and Engineering concepts in order to design and perform the experiments followed by validating the data to solve complex problems in the multidisciplinary research fields of Biotechnology.
Graduates will be able to analyze, appraise and develop technologies to address the Biotechnology Engineering problems while keeping in mind safety & ethical factors