Departments - Movement Science
---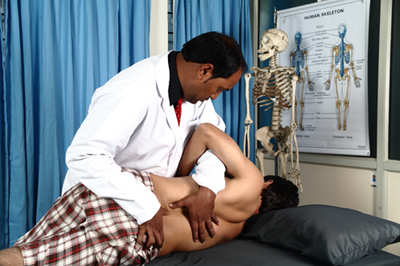 This department caters to analysis and identification of movement dysfunction.
Faculty:
Mr. Pristy Paul. P.T.
Facilities:
Digital camera used for photo and Video recording and Movement Analysis Software
Patient Videos
Cerebral palsy
Stroke
Cerebellar Ataxia
Parkinson and
Movement Disorders
Movement Therapy Videos
Textbook
Biomechanics of Normal Movement
Gait Analysis
Journal Holdings: Soft Copy
Journal of BodyWork and Movement Therapy
Experimental Brain Research
Motor Control
Journal of Biomechanics
Academic activities:

Subjects taught
Biomechanics and Exercise therapy
Analysis of Normal Movement in Models and differences between Pathological and Normal movements.
Achievements:
Courses conducted:

Workshop on PNF
Workshop on Motor Relearning Program

Results:

Number of people trained

The Department of Movement Science and Neurology has trained 180 undergraduate and 30 Masters students
Placements:
Physiotherapists have come for training from premier institutes and have been working with National Institute of Mental Health and Neurosciences.

They are also working with National Athletic Association and National Junior Cricket Team.
Other services:
The department trains therapists in movement dysfunction analysis by organizing regular training and On demand training program with hands on software