Department of Neuro and Paediatric Physiotherapy
---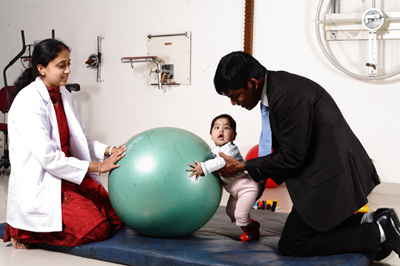 This department caters to understanding, evaluation and training of patients who have suffered from neurological disorders such as Stroke, Cerebral Palsy, Developmental Disorders, Parkinsonism, Bells palsy and the like .
Faculty:
Mr. R. Vasanthan P.T. Professor
Ms. Divya
Ms. Rajna
Facilities:
Digital camera used for photo and Video recording
Patient Videos
Cerebral palsy
Stroke
Cerebellar Ataxia
Parkinson and
Movement Disorders
Training resources
Movement Therapy Videos
Movement Analysis Software
Textbook
Traumatic Brain Injury for Physical Therapists
Neurological rehabilitation
Journal Holdings: Soft Copy
Journal of Neurological Physical therapy
Clinical rehabilitation
Physical Therapy- APTA
Disability and Rehabilitation
Stroke
Spine
Academic activities:
Students are trained in the following departments
Physiotherapy in Neurological conditions
Advanced Physiotherapy in neurological and Psychosomatic Disorders
Analysis of Normal Movement and differences between Pathological and Normal movement of Stroke, Cerebral Palsy, Movement Disorders, Parkinsons and others
Achievements:
Courses conducted: Regular Training Programs are conducted on Recent Physiotherapy Methods of Treatment.
Workshop on Motor Relearning Program
Task Oriented Physiotherapy for Stroke
Vestibular Rehabilitation
Clinical Training:

Students are posted for Clinical training in NIMHANS, St. Martha's Hospital, Mobility India, RECOUP, Parkinson's Disease Society
Results:
Number of people trained The Department of Movement Science and Neurology has trained 180 undergraduate and Masters students
Number Appeared: 28
Number Cleared: 28
Average pass percentage of the Department: 90-100%
Placements:
Physiotherapists have come for training from premier institutes and have been working in
NIMHANS, Bangalore
2KIMS, Hospital, Bangalore
Indian Athletic Association
Fortis Hospital, Bangalore
Abroad
Nepal
Gulf
Other Facilities:
The department trains therapists in movement dysfunction analysis by organizing regular training and On demand training program with hands on video Analysis
Trains people for Conducting Cochrane Reviews.
Specialty of the department
Research Students are trained in Quantitaive and Qualitative Research
The department caters to evaluation and treatment of variety of patients with Musculo skeletal Disorders
The Department conducts Regular training Program and Workshops on Manual Therapy and Pain Science.
The Sports department has tie up with Sports Science Centre, Bangalore
The students are trained in scientific evaluation of sports people with advanced equipments such as VO2 analyser, Isokinetics, Postural Analysis, Video Motion analysis and the like.
ClinicalTraining
Students are posted for clinical training in Sanjay Gandhi Hospital and Sparsh Hospital.
Journal Holdings: Soft Copy
Journal of Orthopaedic and Sports Physical Therapy
Clinical rehabilitation
Journal of Manual and Manipulative Therapeutics
Physical Therapy- APTA
Disability and Rehabilitation