Master of Computer Application ( M.C.A. )
---
About the Department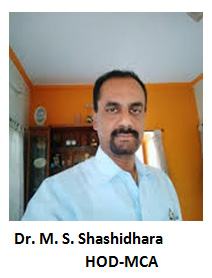 The Department of MCA, which was started in the academic year 2001-02, has excellent infrastructure in terms of digital classrooms, a dedicated MCA Library and a centrally air- conditioned & networked computer laboratory. Master of Computer Applications (MCA) is a 2 Year Post-Graduate Programmes affiliated to Visvesvaraya Technological University (VTU), Belgaum, Karnataka, India and approved by All India Council of Technical Education (AICTE), New Delhi.

The objective of this program is to produce IT professionals who excel in the field of computer applications development and are sought after by different sectors of industry, business, government, etc. VTU has approved lateral entry for Two-Year MCA Program from academic year 2015-16.The network is supported by various state of art servers, such as Web, Mail, DNS etc. Seminars, Contests, Short-term courses and continuous Education Programs are conducted regularly for students and staff. It offers a thorough living and learning experience through its, spacious class rooms, scintillating air conditioned computer labs, latest pedagogy, Wi-Fi ambience, learned staff, voluminous library, soft skills lab, separate hostels for girls and boys, hygienic canteens, banking facility etc.

Undoubtedly every single stake holder appears to be proud and contended here. The class room lectures are enriched by special talks on subjects of topical interest by experts in the IT industry, R&D establishments and academic institutions of repute. The corporate standard of the computer laboratory has to be seen to be believed. Every student gets a computer to himself/herself in the Lab. In addition to the academic and curricular activities, the students of this department are encouraged to actively participate in co-curricular and extra-curricular activities. The department conducts a national level inter-college festival - OXYTECH, which provides a platform to our students to interact with students of other colleges. TOCE also has a vibrant Industry Institute Interaction Cell, and a full fledged Training and Placement Cell. Regular mock interviews, training programs, group discussions with special emphasis on soft skills is provided to the students. Our alumni are found in several blue chip organizations in India and abroad. Students picked, polished and placed by us are accepted hand in hand by leading organizations. Many reputed companies have been visiting the institution for Campus Recruitment. We have been getting 100% pass results with most of our students getting decorated with First Class with Distinction. In addition, they are bringing laurels to the Department by bagging University ranks.
Vision
Excel to meet the global needs of Computer Education, Research, Service and Human Resource with Competitive edge.
Mission
Learner Centered Education Industry Centered Service and Research Strong Community Relationship serve the Under Served, Meet the Regional, National and Global Educational Needs Inter Organizational Linkage Strategic Future Oriented Planning Professionalism In Computer Applications Excellence in Knowledge, Skills, Service and Attitude Open Organizational Climate.
| | |
| --- | --- |
| M1. | Learning centered education industry centered service and research strong community relationship serve the underserved |
| M2. | Meet the regional, national and global educational needs inter organizational linkage strategic future oriented planning professionalism in computer applications. |
| M3. | Excellence in knowledge, skills, service and attitude open organizational climate. |
Programme Educational Objectives (PEO)
| | |
| --- | --- |
| PEO 1: | Develop innovative IT applications to meet industrial and societal needs |
| PEO 2: | Adapt themselves to changing IT requirements through life-long learning |
| PEO 3: | Exhibit leadership & Technical kills in advancing their chosen career |
| PEO 4: | Adapt to technological advancements by engaging in lifelong learning with leadership qualities, professional ethics and soft skills. |
| PEO 5: | Educate the students to implement the concepts of Digital India |
Program Specific Outcomes(PSO)
| | |
| --- | --- |
| PSO 1: | An ability to identify, formulate and design solutions in the areas of Computer Science and Applications. |
| PSO 2: | Students are able to adopt any modern applications tool or software for analyzing and solving various computer applications problems. |
| PSO 3: | Students will be able to incorporate the understanding of impact of social, cultural and global aspects in their professional practice. |
| PSO 4: | In the fast changing scenario of technical and business ecosystem, the students will understand the need for quality, timeliness, life-long learning and adopt themselves accordingly. |
| PSO 5: | Students will have the knowledge of contemporary issues and able to apply various software applications approaches for project management. |
| PSO 6: | Students will understand the impact of professional applications solutions in environmental contexts and the need for sustainable development. |
Salient Feature
Ranked one of the top 10 colleges in terms of intellectual capital and academic excellence by Business & Management Chronicle magazine in June/July 2014.
100% results with VTU rank.
State-of-art laboratories with latest Technology and Centralized AC.
Gallery type AC classrooms and seminar halls furnished with modern technical aids such as LCD, Wi-Fi and Digital podium.
Well stacked library with E-library and journals.
Approved Research and Development Center of VTU for pursuing PhD in Computing Applications.
Approved By AICTE, New Delhi, Accredited By NBA, NAAC,New Delhi & Affiliated To VTU-Belguam.
MOU with Oklahoma State University, USA & Malta University, Malta.
Conducts IEEE Conferences, National & International Symposiums, Workshops, FDPs and Inter-collegiate Technical Fest Oxytech for nurturing students under Extra-Curricular activities.
Organizes industrial –webinars, Webcasts, Visits & Expert Lectures regularly.
Highly qualified & experienced teaching faculties and technical team.
Excellent placement trainings, services and recruitments.
Career oriented and Value added certificate programs such as Oracle, Java/J2EE, Software testing, CCNA, Android, .Net , Intel & Soft-skills are imbibed in the class Time-Table.
Tie-up with Infosys-Campus connect, Wipro-Mission 10X, IIT Bombay-Spoken Tutorial & IIT Madras QEEE programs.
Follow us on