Pharmacist's Day Rally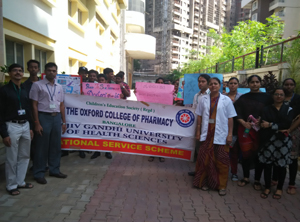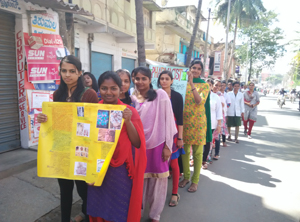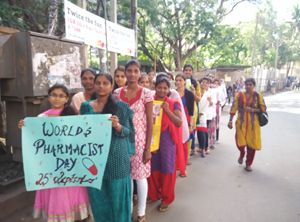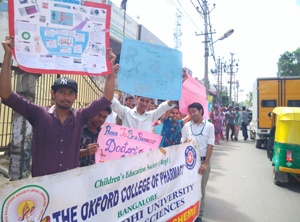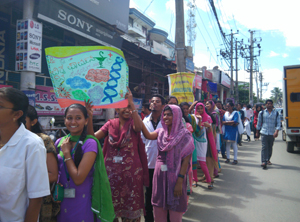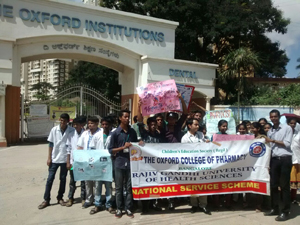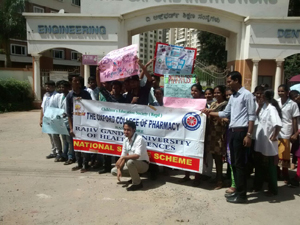 National Social Service Scheme (NSS)
The NSS unit of the college has one hundred student members and is approved by R.G.U.H.S. The unit is headed by Mrs.Lohitha Putha, Lecturer, Department of Pharmacceutical Chemistry. She has attended NSS camp on Community Development Programme and Health for youth at Mysore, conducted by JSS College of Nursing in Coordination with RGUHS, during March 2010; First Aid Programme at Doddaballapur and Healthy Life Style camp at SDM College of Naturopathy and logic science – Ujjire along with students.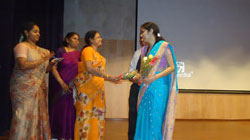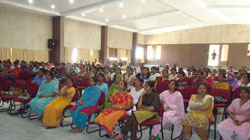 Dibetes Camp 05 - May - 2011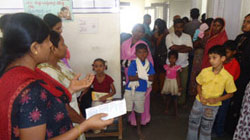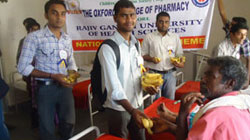 Health Education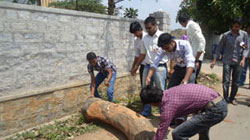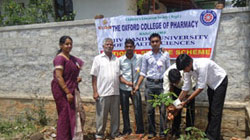 Shramadhanam & Plantation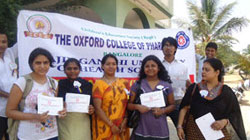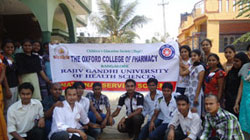 Blood Donation Camp


Dental Camp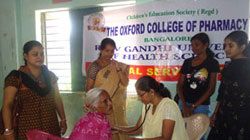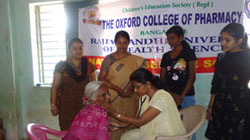 Geriatric Camp
Alumini Association
Alumini Meet 2010 was organised on Saturday 10 July 2010 during 9 to 4 pm at The Oxford Dental College Auditorium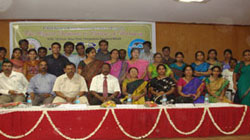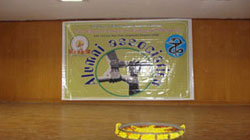 NSS programme and Guest lecture
Awareness programme against Menance of Drugs and alcoholism was delivered by 'Mrs.Ruby Jacob' and 'Persons from Alcoholics anonymous' which was organised on friday 19 November 2010 between 1-4 pm at The Oxford Dental College Auditorium.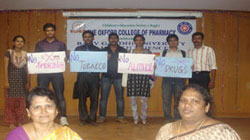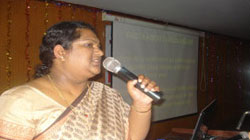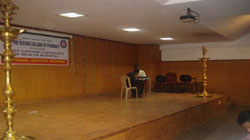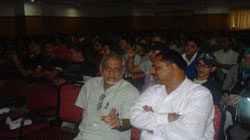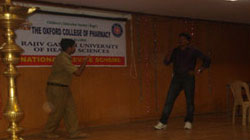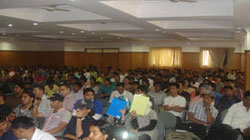 Co-Curricular activities
The college is conducting various co-curricular activities to enhance the skill of students in the technical & related areas. Students are sponsored to participate in the symposiums conducted in other colleges. Students are also motivated and guided by faculty to present seminar in the college.
Extra Curricular activities

To bring out the best talent in each student, the college provides platform such as sports and games competitions and also cultural competition. The students, both boys & girls, actively participate in the above activities.
The College has extensive sports facilities for the use of students:
Outdoor Play Grounds
Basketball Court with ' single arm boards'
Volleyball court
Throw ball court
Tennis court
Tennis Kot court
Multiple use Mini Football/criket/kho-kho Ground
Indoor Sports Hall
Table Tennis Tables
Carom Boards
Chess Boards
Fitness Centre Multi Gym.
Tread Mill, Bicycles, Bench Press, Bars and Weights.