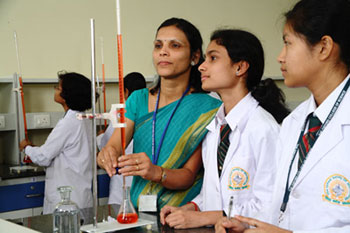 Department of Pharmaceutical Chemistry
Mission
Pharmaceutical chemistry forms the backbone of pharmacy program. Our mission is to provide students with deep understanding and diverse scientific background, and a rewarding and challenging program of study. To mould our youngsters into Millennium Leaders in the areas of drug design and discovery, organic synthesis of medicinal and pharmaceutical agents, chemistry of natural and synthetic products, structure-activity relationship, molecular modeling, drug metabolism and molecular toxicology and many other related topics.
VISION
Pursue and deliver a dream to be among the best in the field of pharmaceutical chemistry through high quality education and research.
Description:
Our department is an interdisciplinary department incorporating medicinal chemistry, biochemistry, pharmaceutical analysis, pharmaceutical organic chemistry and pharmaceutical inorganic chemistry. The research focus in Pharmaceutical Chemistry research includes synthetic chemistry, phytochemistry, pharmacological screening of herbal extracts, isolation of active compounds, structural elucidation, SAR studies and microwave assisted reactions etc.
Our department is equipped with HPLC, FTIR, and UV-Visible, Karl Fischer, Spectrophotometer, Scientific Microwave Oven, Spectro flouriometer, Auto tritrator and Flame photometer. The department plans to start two new M. Pharm. Courses in quality assurance and establish a computer aided drug design laboratory.