Courses Offered - Bachelor of Physiotherapy (BPT)
---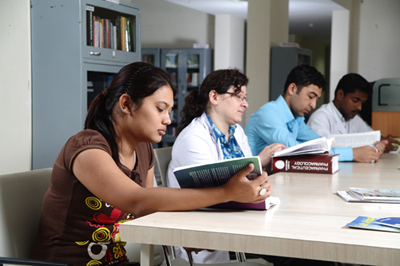 Subjects
The Syllabus of the B.P.T. Course follows the pattern prescribed by the Rajiv Gandhi University of Health and Science, Bangalore. A Number of subjects are prescribed for study to complete the course. Except a few topics specifically mentioned, all the others are included for University Examination.
FIRST YEAR
Human Anatomy
Physiology
Biochemistry
Psychology
Sociology
Biomechanics of human motion
English*
First Aid Nursing*
Orientation to Physiotherapy*
Clinical Orientation*
SECOND YEAR
Pharmacology
Pathology
Microbiology
Therapeutics (Exercise Therapy)
Electrotherapy
Research Methodology and Bio-Statistics
Clinical observation
First aid and CPR
THIRD YEAR
General Medicine.
General surgery.
Orthopaedics and sports physiotherapy
Cardio-respiratory and General physiotherapy
Allied therapies*
Supervised Rotatory clinical training.
FOURTH YEAR
Neurology and Neurosurgery
Community Medicine.
Neurological physiotherapy.
Community Based Rehabilitation.
Ethics,Administration & supervision.*
Evidence Based physiotherapy practice.*
Project.
Supervised Rotatory clinical training