ABOUT US
---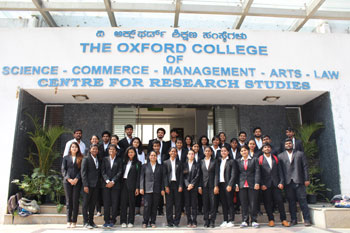 The Oxford College of Law Bengaluru was a dream project of our beloved Founding Chairman Late Sri. S. Narasarajagaru and is now nurtured and propelled towards greater heights by our Chairman and visionary leader Dr. S.N.V.L. Narasimha Rajugaru. The institution is pioneer in legal education since past 20 years and has contributed many erudite experts to the legal profession so far. The campus is situated at the prime location of HSR Layout of South Bengaluru and is well connected to the rest of the Bengaluru city.

Our faculty comprises highly qualified and experienced legal experts who are dedicated to providing quality legal education to our students. We offer 5 years B.A. LL.B, B.B.A LL.B and 3 years LL.B courses.

Our state-of-the-art campus provides a vibrant learning environment that encourages critical thinking, intellectual curiosity, and collaboration. We have modern facilities such as a well-stocked library, computer lab with internet and subscriptionto legal databases, Moot courtrooms, and other resources that enable students to apply their theoretical knowledge to real-life situations.

The Oxford College of Law is committed to producing lawyers who are not only academically excellent but also possess strong ethical values and social responsibility. We believe in nurturing well-rounded individuals who are equipped to make a positive impact in society.

We invite you to explore our website to learn more about our College, its programs, and our values. We are confident that you will find the information you need and encourage you to contact us with any questions or queries you may have. Thank you for considering The Oxford College of Law, as your destination for legal education.