Admission Procedure
---
BA LLB ( 5 years integrated course)
Eligibility and Admission Procedure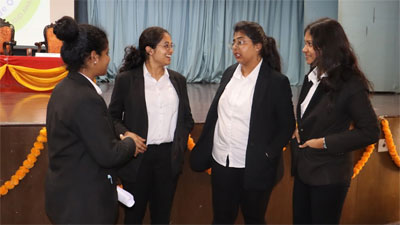 The duration of the programme shall be 5 academic years comprising 10 Semesters each of 16 weeks duration.

Eligibility
The medium of Instruction shall be in English /Kannada.
LLB (3years course after graduation)
Eligibility and Admission Procedure

Course:
The duration of the course shall be three academic Years consisting of 6 semesters each of 16 weeks duration. A candidate who has passed the Bachelor Degree/ Masters Degree from university in any faculty or a Bachelor or Master Degree Examination from any other university considered as equivalent thereto is eligible for admission to 3 Year LL.B.

A candidate who fulfills the above requirement shall have obtained not less then45 percent of the aggregate marks in the qualifying examination.
Medium; The medium of Instruction shall be in English/Kannada.
fa Attendance, Progress, etc.
Each student shall attend not less than seventy percent of the prescribed number of working periods in each of the subjects comprising the course and the contact programme classes, tutorials and practical training classes as may be prescribed for each subject for each semester throughout the course.
Each semester shall be taken as a unit for the purpose of calculating attendance.
Conduct and progress shall be satisfactory during the semester period.
Students who fail to satisfy the above requirements shall not be eligible to take the Semester examination.
Documents to be submitted at the time of admission for all Law course
Aadhar Card
Marks card 10th & 12th and Tc for 5years BA & BBA LLB
Marks card 10th,12th and degree and TC for 3 years LLB
5 passport size photo

Non Karnataka students Documents
Aadhar card
Marks card 10th and 12th and Tc  for 5 years BA &BBA LLB
Marks card 10th ,12th degree and TC for 3 years LLB
Migration and eligibility certificate is mandatory for all the law course (only for non-karnataka students )
5 passport photos.