Chairman's Message
---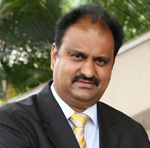 Legal Education occupies a dominant position in the present Scenario. The Journey of this College started in the year 2003 with Five Year LL.B Course, which is blooming successfully. Added to it, during the year 2013-14, Three Year LL.B Course was introduced. The College enjoys the recognition of the Government of Karnataka, Approval of Bar Council of India and Affiliation of Karnataka State Law University.

The College is staffed by a team of highly qualified and well experienced faculty members, committed to deliver quality legal education to the students and groom them as good human beings and outstanding Law Professionals. The Students are motivated of high moral, ethical and professional standards towards their personality development and they are always encouraged to participate in National and International events which has led them to prove their talents by getting excellent results and many laurels to the College every year in Moot-Court Competitions ,Cross examinations and other extracurricular activities .Students are provided with internship opportunities and deserving students are encouraged by awarding Merit scholarships. Many activities like legal literacy, legal aid camps, legal awareness programme, talk and interactive sessions by eminent persons are regularly conducted in the College which creates more interest and enthusiasm among the students.

The College is facilitated with excellent world class infrastructure equipped with latest gadgets, Online National and International journals, E-library with latest textbooks and Law Journals, Sophisticated Moot-Court Hall, well equipped Computer labs and furnished class rooms with facilities for LCD presentations by adopting innovative teaching technology. Campus selection for recruitment activities are carried out by the Placement Cell and Corporate Relations Department. Separate Hostel facilities for boys and girls with comfortable lodging and hygienic food have been provided.

The Students may nurture their talents by emerging out as eminent Advocates and ensure that Law is within the reach of laymen to the challenges in the modern and complex society.
Dr. S.N.V.L Narasimha Raju
Executive Director
The Oxford Educational Institutions