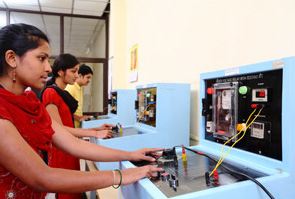 Vision
Create globally competitive Automobile technologists to work successfully in the fields of design, production and maintenance of Automobiles with social and moral values.

Mission
To produce Automobile diploma graduates who are trained in design, production, testing and maintenance of Automobiles through competitive curriculum in collaboration with industry and other organizations.
To provide required facilities to enhance skills in various fields of Automobile engineering.
To encourage ethical values and leadership abilities in the minds of students so as to work towards the growth of the society.
Programme Educational Objectives (PEOs)
Pursue a successful career in the field of Automobile Engineering or a related field utilizing his/her education and contribute to the profession as an excellent employee, or as an entrepreneur.
Be aware of the developments in the field of Automobile Engineering by continuously enhancing their knowledge informally.
Identify various short comings in the field of Automobile engineering and develop new innovative solutions and products to solve the same.
Be able to work effectively in multidisciplinary and multicultural environments contributing positively to the needs of an individual & society at large.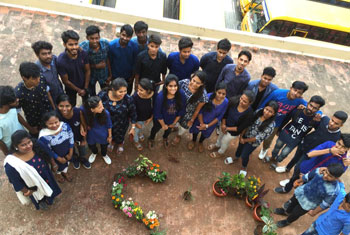 Programme Outcomes (POs)
A Diploma (Automobile Engineering) graduate is able to:
Apply basic knowledge of mathematics, science, and engineering as it applies to Automobile Engineering to solve broadly defined engineering problems. (Engineering Knowledge)
Use logical step by step methods to investigate, analyse and interpret data in trouble shooting various broadly defined Automobile problems. (Problem Analysis)
Design an Automobile system, component, or process to meet the desired economic, social, and environmental needs with appropriate consideration for public health and safety. (Design/ development of solutions)
Design and conduct experiments and interpreting the data of experimental results to reach valid conclusions.(Investigation)
Create and use the techniques, models and processes, and modern software/hardware tools necessary for Automobile engineering. (Modern Tool Usage)(include FOSS)
Produce technical solutions in global and societal context and demonstrate the need for sustainable development of Automobile industries. (The Engineer and Society)
Evolve strategies to address problems arising in automobile field considering their environmental effects and sustainability issues. (Environment and Sustainability)
Inculcate professional and ethical responsibilities and marshal in all situations. (Ethics)
Function effectively as an individual and as a team member, and in multi-disciplinary environment. (Individual and Team Work)
Communicate and present ideas effectively for quicker and efficient results.. (Communication)
Incorporate appropriate economics and business practices for project, risk and change management. (Project Management and Finance)
Self-improvement through continuous professional development, and independent and lifelong learning in the context of technological changes in the field of Automobile Engineering. (Lifelong learning)
Infrastructure:
The lab has the following major equipments
Automotive Components Lab:
This lab facilitates the students to provide the hands-on practices for servicing and repair of various automotive Systems and Engines.
The lab has the following major Automotive Systems and Components.

Multi Cylinder Petrol Engine

Multi Cylinder Diesel Engine

Petrol and Diesel fuel systems

Differential

Clutch and Gear box

Steering systems with different gear boxes

VILLY JEEP-Diesel

Vehicle Maintenance & Reconditioning Lab:
The lab has been established to facilitates the students to perform the Fuel pump Calibration, Wheel Balancing and alignment, Head light alignments and Engine fault diagnosis various engine Sensors etc. The lab has the following major Equipments

Cylinder Re-boring machine

Valve Re-facing machine
Break Skimming Machine
Revitting and Derevitting Equipments

Auto Electrical and Electronics Lab:
The lab has been established to facilitates the students to perform the fault diagnosis of alternator, starter motor, ignition system, electrical system, battery testing and Engine fault diagnosis of various engine Sensors etc. The lab has the following major Equipments:

Battery Test Rig with High Rate of Discharge tester

Starter motor and Alternator Test Bench
Spark Plug Testing Machine
Headlight Adjustment
Note: Identification Layout of fuel supply system in Diesel Engine project work participated in DO IT YOUR SELF EXHIBITION,MYSORE during 2011/12.
Industrial Visit
As an Academic curricular Students visited FMTTI Ananthpur,TYOTA KIRLOSKAR Bangalore,PEARLITE PRECISSION AUTO INDUSTRY Shimoga,Local Reputed Auto Workshop Like Mandavi motors,Sundaram motors,Nandi Tyota,Bajaj Popular,Saphire Honda .

Placement Details:
Our Alumni are placed in many Public and Private Sectors like
Hyundai Bangalore
Saphire Honda Bangalore
Advaitha Motor
TVS,
Nandi Toyota, Bangalore.
Renovaltt , Bangalore
Auto industry in UAE and Malaysia