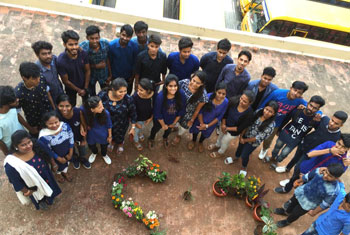 In spite of development of other branches of engineering mankind cannot exist without MECHANICAL ENGINEERING, however other fields of Engineering can be used as aids to improve the efficiency of Mechanical Engineering

The Department of MECHANICAL ENGINEERING is one of the departments from the inception of the college in 1965. The Department has well qualified, experienced and dedicated staff headed by very inspiring HOD Mrs. Shagufta Nasreen.

The department has well equipped laboratories with basic and advanced equipments required for diploma courses.

The Department takes initiative in academics and development with sound foundation in the field of Mechanical engineering. The Department has its own computer laboratory to meet the requirements of the students. We also have vast collection of reference books in library for the benefit of the students.

Vision
To develop a programme with excellence in teaching and learning to produce globally competitive Mechanical Engineers with social responsibilities and lead a quality life adopting moral and ethical values.

Mission
Imparting quality technical education to students by providing excellent learning Environment through competitive curriculum in collaboration with industry.
The technicians should be able to apply basic and contemporary science of engineering and innovative skills to identify problems in the industry and be able to develop practical solutions to them.

To develop leadership, teamwork, communication skills — oral, written and hands-on activities, with the help of structured and unstructured real-life projects.
To encourage ethical values and leadership abilities in the minds of students so as to work towards the growth of the society.
Objectives
To prepare students for successful careers in industry to meet the needs of Indian and Global companies or to become an entrepreneur
To provide opportunity for students to work in their individual capacity as well as to function as teams on multidisciplinary projects.
To enable students for lifelong learning and introduce them to professional ethics and sustainable development.
Identify and engage in query, develop new innovations and products.
INFRASTRUCTURE
Mechanical Engineering Department has the following Laboratories
MACHINE SHOP: Equipped with adequate number of lathes, Drilling machine, Milling machine, Shaping machine, Grinding machine, Sawing machine
WORK SHOP: Equipped with TOOLS AND equipment required for carpentry, fitting, Welding, sheet metal
FOUNDRY AND FORGING LAB: Equipped with adequate tools and equipments
MATERIAL TESTING AND QUALITY CONTROL LAB
Hydraulic and Pneumatic Lab
Exclusive computer lab with advanced mechanical software
COMMUNICATION AND ANALYSIS SKILL DEVELOPMENT LAB equipped with LCD projector
INDUSTRIAL VISITS
As a part of Academic curriculum Students visited VARAHI HYDRO POWER PLANT (shimoga, Karnataka), BHARUKA MINI HYRO POWER PLANT (near Mandya, Karnataka), SENSERA Group(CNC Machines, Banglore), BEML rail coach Division (Bangalore), IMTEX industrial Exhibition (Banglore), TOYOTA KIRLOSKAR Ltd.,(Bidadi, Bangalore), A seminar on "TRANSFORMATION OF NATION" organised by Technical Board Of Education ( Bangalore)
PLACEMENTS
Our Students are placed in many MNC and Private Sectors like

TOYOTA KIRLOSKAR
QUEST
TATA MOTORS
HAL
BOSCH LIMITED