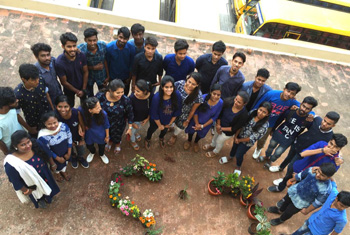 Electronics and Communication Engineering (ECE) is a swiftly advancing field, with new ideas emerging every other second. From mobile phones to fiber optics to remote sensing, there are exciting avenues to explore and create even better ideas. With technology becoming all pervasive in everyday life, opportunities for Electronics engineers are endless. The ECE department at The Oxford College of Engineering prepares students for careers in this constantly evolving discipline.

Equipped with the most advanced labs, this department cultivates young minds & provides them the appropriate launching pads to grow and excel in the technical world. The department offers Diploma of Engineering programme in Electronics & Communication Engineering.

The faculties are well motivated and take personal care of the students and counsel them at regular intervals. They also inform the parents / guardians about the progress of their ward regularly. Every 20 students are mentored by an experienced faculty member Industry-academia interaction is given a prime importance. The guest lectures by eminent scientists and industrial visits are constantly been organized.

VISION
To produce creative and innovative dynamic, and ethical technologists who can lead in the ever-changing world of electronics and communication technologies

MISSION
The mission of the Electronics and Communication Engineering Program is to benefit the society at large by
Imparting quality technical education to the students providing excellent teaching- learning environmentand through competitive curriculum in collaboration with industry through state-of-the-art infrastructure and resources.
To provide experience in teamwork, communications-oral, written and hands-on activities with the help of structured and unstructured real-world projects.
To inculcate ethical values and leadership abilities in the minds of students so as to work towards the growth of the society.
Programme Educational Objectives (PEO's)
To prepare students for competent career in industry to meet the needs of Indian and Global companies or to become entrepreneur in the field of Electronics and Communication Engineering.
To provide opportunity for students to work in individual capacity and in teams under multidisciplinary domains.
To enable students for life-long learning for sustainable development and introduce them to practice professional ethics.
Identify and encourage application of mind, creation, innovation andin querying
Programme Outcomes (PO's)
A Diploma (Electronics and Communication Engineering graduate) student is able to
Apply the knowledge of mathematics, science and engineering principles to solve broadly defined electronics and communication engineering problems.
Identify, formulate, and solve broadly defined basic electrical, electronics and communication engineering-related problems by applying basic principles.
Design wide-range of electronics and communication engineering systems and develop know how to analyze and interpret results.
Conduct experiments and interpret data to investigate and solve broadly defined electronics and communication engineering problems.
Ability to identify and select modern tools such as simulators, synthesizers, emulators, virtual labs etc. to analyze and validate the solutions.
Able to take-up the challenges posed by the real-world problems so as to enhance the quality of life by providing feasible solutions
Develop standards, specifications, cost effective products and operations in accordance with the law/standards and with a greater emphasis on environmental issues and sustainability.
Inculcate and practice professional and ethical responsibilities.
INFRASTRUCTURE & LAB
Department has sufficient virtual class rooms , multipurpose projector and ten well equipped laboratories. To develop the department into the full fledged centre of learning in various fields of electronics and communication engineering, keeping in view the latest developments With the world of electronics evolving so rapidly, the devices and techniques that are new today will be tools you are expected to understand and use by the time you finish diploma. Courtesy the technological evolution, you need to understand the fundamental principles of the technology in order to be skilled in their application and to be able to adapt rapidly with respect to technological changes t he department has well equipped state of art laboratories in Analog Electronics, Digital Electronics, Industrial Electronics, VHDL, ARM CONTROLLER, Microcontrollers lab with Hardware kit, Analog & Digital Communication, PCB LAB,C-PROGRAMMING,SCD LAB,BEEE LAB,BCS LAB,PC HARDWARE LAB.

DEPARTMENT LIBRARY
The department has a knowledge repository of its own with 620 books , seminar and projects reports, and exhaustive question bank and lab manuals.

FACULTY DEVELOPMENT ACTIVITIES
A dedicated team of Well qualified staff members and skilled lab instructors led by highly motivated and enthusiastic Departmental Head, The University results and the improvement in our placement division have proven the unprecedented growth of the department.

INTERACTION WITH PARENTS
On a regular basis the parents are informed about the student's progress through mail and reports are also sent to their addresses.

PROJECT EXHIBITION
The project exhibition is conducted every year in the month of march it offers the students a wide range of enriching opportunities to gain new experience and to develop competing skills.

                  To continually improve the technical calibre of the students in ECE field to reach the global standard imbibing all round development in professional ethics, team spirit and communication skills. The students are guided by the lecturers to do the projects in emerging field and to develop the knowledge in upcoming technical field. The students are motivated to do the more practical projects which can be used in the innovative way.