Departments - Civil Engineering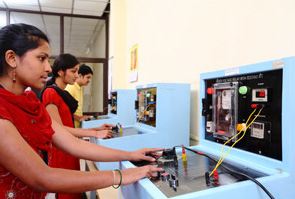 The Department of Civil Engineering is one of the departments available from the inception of the college in 1965. The Department has qualified and experienced staff headed by BHAGYA .K as the HOD and well equipped laboratories with basic equipment required for diploma courses and modern equipment to meet the research requirements. The Department is very active in academic, research Programmes. The Department has its own computer laboratory to meet the requirements of the students. We also have good collection of reference books in the library for the benefits of the students.
VISION
To impart technical knowledge, professional skills, moral values, enabling a student to be globally competent in the field of civil engineering and to serve the society to make the world a better place to live in.

MISSION
To provide an academic environment, through competitive curriculum , conducive for high quality education focusing on transfer of knowledge and skill development for the benefit of the profession and the society.
To nurture talent in students to enable them to be leaders in their chosen professions
To promote the spirit of enquiry, innovation, life skills and to encourage entrepreneurship.
ENVIRONMENTAL LAB
BASIC MATERIAL TESTING LAB


SURVEY LAB
Has major equipments such as Total stations, Theodolites, Direct reading Dumpy levels


CAD LAB