Departments - Commercial Practice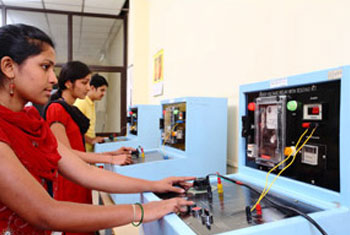 V I S I O N
The Programme is to make the students as Professionals of International Standards in Office Administration covering the areas of Accounting, Communication, Automation and Documentation according to the emerging needs of Corporates in Manufacturing, Trading and Service Sectors, Service Oriented Organizations and Government Agencies. Also to make the students fit for pursuing higher education.

M I S S I O N
The programme supports the students through high quality teaching and practices that provides students a supportive environment, promoting intellectual, ethical and secretarial services.
The programme invokes the desire and ability of lifelong learning in the students for pursuing successful career by improvement in the quality of diploma education.
Maintaining strong institution & industry relationship for student development.
Strengthening the inter-institutional linkage with the professional organizations, accrediting agencies, statutory authorities who share common responsibilities

PROGRAMME EDUCAITONAL OBJECTIVES (PEOs)
Laying a solid foundation to develop Commercial Practice Diploma Professionals to acquire knowledge in commerce, management, technical, computer and secretarial skills to meet the needs of the industry, institution and society.
Imparting continuous and value based education to enable the students to uphold the values and ethics of the Profession
Producing qualified and efficient human resource to match the manpower requirements of the user system to handle the managerial and executive works.
Inculcating innovative and research methods to update the knowledge of students in the context of emerging technology.
PROGRAMME OUTCOMES (POs)
Acquire office management skills for Corporate and Government sectors
Handle managerial and executive jobs independently at middle level management of all organizations.
Use of modern office equipment by means of hands on experience.
Communicate effectively through oral, writing and presentation.
Give support in legal issues in modern corporate world
Give support to solve the problems connected with the office management issues.
Practice professional ethics and social values.
Maintain record books and account books independently.
Take up higher education through lateral entries.
Recognize the need for continuous updating of knowledge
Contribute healthy organizational climate for better results.
Participate effectively in team work.
Provides 2nd year lateral entry opportunity for further higher education like B.Com.
INFRASTRUCTURE:
Typewriter lab:
A well equipped typewriter lab to provide students with hand held experience to improve the typing speed.

Computer lab :
To educate students with latest accounting based computer knowledge like tally, desktop publishing, computer typing speed and manuscript, web designing, data base management system and other office softwares.

Shorthand:
Well trained faculty members are available for this subject. The course provides job opportunity in HR department of MNCs, public sector companies, private sector companies, government jobs and so on.