Departments - Electrical & Electronics Engineering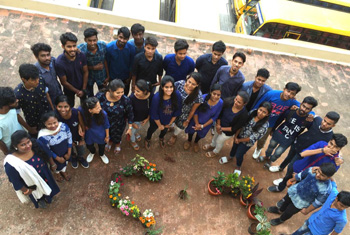 The Department of Electrical and Electronics Engineering was started in 2008. The annual intake is 60.The Electrical Engineering department of The Oxford Polytechnic has dedicated and highly qualified faculty who give individual attention to the students, prompting them to rise above ordinary levels to face the competitive World. The Electrical Engineering department has sophisticated and well equipped laboratories with modern machinery which encourages the students to undertake projects internally. Internal Assessment examinations are done regularly to monitor the student progression regularly. Subject wise assignments are given to the students for enhancing their knowledge base under the guidance of faculties. Soft skill training is included in the curriculum to equip the students for placement.

VISION
Create globally accepted Electrical Engineering Technologists to excel their skills in Electrical & Electronics Engineering.

MISSION
Provide the environment where industry oriented education is imparted through systematic Teaching and learning process in interaction with industry and alumni.
Develop value based system of education by offering well-balanced programme of instruction, practical experience and giving opportunities for overall personality development.
Create life-long learning by enhancing the knowledge base and skills necessary to contribute to the improvement of their profession and community.
Program Educational Objective (PEO's)
Program Educational Objective I
To excel in Electrical and Electronics Engineering programme and apply to other diverse fields that requires professional skills.
Program Educational Objective II
To contribute Electrical and Electronics Engineering skills in the field ethically.
Program Educational Objective III
To promote students to continue to pursue professional development, including continuing or advanced education relevant to and their career growth and to create enthusiasm for lifelong learning.
Programme Outcomes
Ability to apply knowledge of Mathematics, Science and Engineering concepts in Electrical and Electronics Engineering.
Ability to recognize, analyze and solve Engineering problems.
Ability to design a system or a process to meet industry needs.
Ability to identify, formulate and solve Engineering Problems.
Ability to acquire skills using modern Engineering tools to provide solutions to Engineering problems.
Ability to demonstrate social responsibilities relevant to Engineering practice.
Ability to exhibit environmental concern in the field of Engineering.
Ability to practice professional ethics.
Ability to involve and contribute effectively in a team.
Ability to communicate effectively.
Ability to involve in life-long learning and engage in recent trends and technology.
Ability to function effectively as a leader with respect to the management of engineering tasks.
Student Development Programme.
4 months Training Program on "Domestic Wiring " conducted by Labour Net Services India Pvt. Limited(Recognised by National Skill Development Corporation(NSDC)).
One day hands-on Workshop on "Module Based Circuit Designing" conducted by LEARN LABS
Project Work
The students are encouraged to take up various projects during their course work through curriculum based project. The third and fourth semester students usually take up micro projects based on the basic concepts in the curriculum.
Industrial Visits
Industrial visit are learning experiences outside the classroom. Students actually see and enrich their knowledge of what is learnt in the classroom. Visit by various batches include Kiaga Nuclear Power Plant, Sharavathi Hydro Power Plant, Varahi Hydro Power Plant etc.