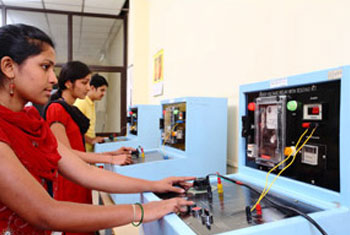 The Department of Electronics Instrumentation Technology branch was started in the year 1983, presently headed by Vanishree.R.Electronics Instrumentation Technology with its syllabus dedicated to provide students with knowledge of the latest technologies in the field of instrumentation, electronics and controls, makes them aware of the needs of measurement and control in every field of engineering.

Guided by excellent faculty, the Electronics Instrumentation Technology course has grown leaps and bounds since its establishment in 1983 and its students have brought laurels to the institution. Electronics Instrumentation Department arranges seminars, industrial visits, co-curricular activities etc., thereby increasing the interaction of students with the outside world.

Vision
To develop a programme with excellence in teaching, learning to produce globally competitive Electronic Instrumentation Engineers with social responsibilities.

Mission
The mission of the Electronic Instrumentation and Control Engineering Program is to benefit the society at large by
Imparting quality technical education to students providing excellent Teaching learning Environment and through competitive curriculum in collaboration with Electronic Instrumentation & Control Engineering industry.
The technicians should be able to apply basic and contemporary science, engineering and innovative skills to identify problems in the Electronic Instrumentation and control engineering industry and academia and be able to develop practical solutions to them.

To provide experiences in leadership, teamwork, communications — oral, written and hands-on activities, with the help of structured and unstructured real-life projects.
To encourage ethical values and leadership abilities in the minds of students so as to work towards the growth of the society.
Programme Educational Objectives (PEO's)
To prepare students for successful careers in industry to meet the needs of Indian and Global companies or to become entrepreneur
To provide opportunity for students to work in their individual capacity as well as to function as teams on multidisciplinary projects.
To enable students for lifelong learning and introduce them to professional ethics and sustainable development.
Identify and engage in query, develop new innovations and products.
Programme Outcomes (PO's)
A Diploma (Electronic Instrumentation and control Engineering) graduate is able to:
Apply the knowledge of mathematics, science and engineering principles to solve broadly defined Electronic Instrumentation & Control engineering problems.(Engineering Knowledge)
Identify, formulate, and solve broadly defined Electronic Instrumentation and Control Engineering related problems by applying first principles (Problem Analysis)
Design Electronics circuits and Process Instrumentation related broadly defined systems and develop knowhow to analyze and interpret results. (Design/ development of solutions)
Conduct experiments and interpret data to investigate and solve broadly defined Electronic Instrumentation and Control Engineering problems.(Investigation)
An ability to identify, formulate and solve the broadly defined engineering problems using different Electronics Instrumentation and Control Engineering related software's/ Modern engineering tools and techniques(Modern Tool Usage)(include FOSS)
Produce technical solutions in global and societal context and demonstrate the need for sustainable development.(The Engineer and Society)
Develop Electronic Instrumentation and Control Engineering systems on broadly defined area to meet specifications within environmental, social, health and safety, manufacturability and sustainability constraints.(Environment and Sustainability)
Inculcate professional and ethical responsibilities and marshal in all situations. (Ethics)
Participate effectively in teams involving several disciplines.(Individual and Team Work)
Communicate effectively with written, oral, and visual means in a technical environment. (Communication)
Ability to lead project team and by incorporating appropriate economics and business practices for successfully complete the project task. (Project Management and Finance)
Self-improvement through continuous professional development, and independent and lifelong learning in the context of technological changes.(Lifelong learning)
CURRICULUM:
Electronics: Basics of Electrical and Electronics, Digital Electronic Circuits, Analog Electronic Circuits, Electrical Measurements.

Instrumentation: Basic Process Instrumentation, Advanced Process Instrumentation, Measurement Techniques, Electronic Instrumentation, Analytical Instrumentation, Optical Instrumentation, Bio-Medical Instrumentation.

Computers: Basic Computer Concepts, C Programming, Microprocessors, Computers in Process Control, Auto cad.

Controls: Control Theory, Control System Components, Process Control, Robotic Systems and Control, Microcontrollers.

INFRASTRUCTURE:
Digital Electronics Lab: A lab to provide students with hand held experience to work with digital IC's and trainer kits.

Electronic Circuits Lab: To motivate the students in basic electronic circuits like amplifiers, op-amps, monolithic IC's etc.

Instrumentation Lab: Provides students with knowledge in various electrical and mechanical measurements, Programmable logic controller.

Data Acquisition Lab: To spread awareness among the students about various analog to digital and digital to analog converter circuits.

Micro controllers Lab: To educate students with the latest technologies in process control using computers.

Process Control / Process Instrumentation Lab: Provides students with knowledge in actual process monitoring and control.

PROJECT WORKS:
instrumentation based programmable temperature controller for process industries,Microcontroller based control circuit for RF ID ,Remote monitoring in dial up network in SCADA systems,Patient Monitoring System,