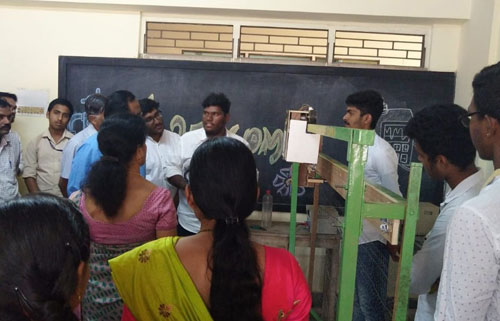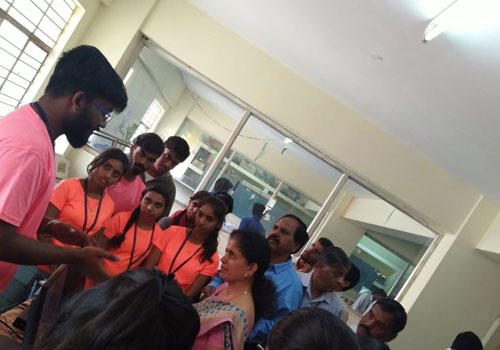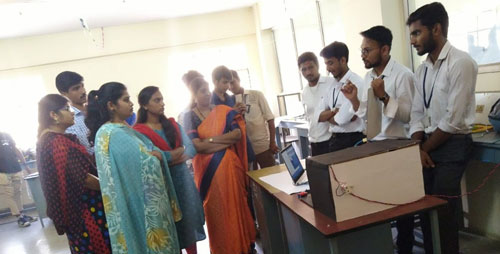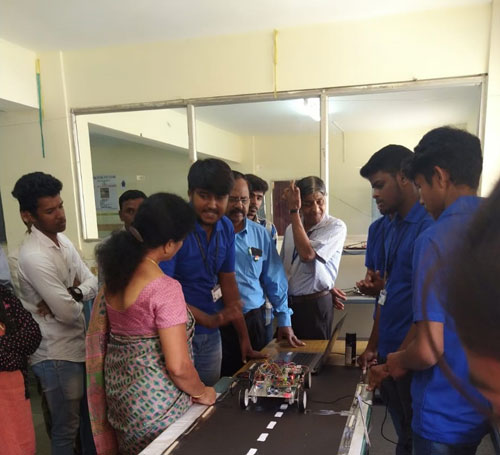 Welcome to the Department of ELECTRONICS INSTRUMENTATION AND CONTROL We strive to train and empower our students who will make the world a better place by using power of engineering principles, techniques and systems. ELECTRONICS INSTRUMENTATION AND CONTROL is a dynamic and exciting area that provides excellent career opportunities in various areas of technology. The department faculties are committed to teach our students the fundamental concepts and the latest trends via smart teaching and learning process. The department conducts various workshops, expert talks and additional training programs on recent trends in ELECTRONICS INSTRUMENTATION AND CONTROL in collaboration with industries for the benefit of faculty and students. The student projects are conducted in-house with the guidance of department faculty and industrial trainers. The available diversity of expertise of the faculty with the support of the Management, and Directors we prepare the students to work in global multicultural environment.
Mrs VANISHREE R
Head of Department
Ph. No :9008874323
Mail ID: vanishree2018@gmail.com
About The Department
The Department of Electronics Instrumentation Technology branch was started in the year 1983, presently headed by Vanishree.R. Electronics Instrumentation Technology with its syllabus dedicated to provide students with knowledge of the latest technologies in the field of instrumentation, electronics and controls, makes them aware of the needs of measurement and control in every field of engineering.

Guided by excellent faculty, the Electronics Instrumentation Technology course has grown leaps and bounds since its establishment in 1983 and its students have brought laurels to the institution. Electronics Instrumentation Department arranges seminars, industrial visits, co-curricular activities etc., thereby increasing the interaction of students with the outside world.

Vision
To develop a programme with excellence in teaching, learning to produce globally competitive Electronic Instrumentation Engineers with social responsibilities.

Mission
The mission of the Electronic Instrumentation and Control Engineering Program is to benefit the society at large by
Imparting quality technical education to students providing excellent Teaching learning Environment and through competitive curriculum in collaboration with Electronic Instrumentation & Control Engineering industry.

Available Labs & other facilities
Basic electronics lab.
Semiconductor lab.
Analog & Digital electronics lab.
Microcontroller Lab
Process Instrumentation Lab
Bio medical Lab
SMART CLASS for the regular conferences, workshops.
INFRASTRUCTURE & LAB
Department has sufficient virtual class rooms, multipurpose projector and ten well equipped laboratories. To develop the department into the full fledged centre of learning in various fields of ELECTRONICS INSTRUMENTATION AND CONTROL, keeping in view the latest developments With the world of electronics evolving so rapidly, the devices and techniques that are new today will be tools you are expected to understand and use by the time you finish diploma. Courtesy the technological evolution, you need to understand the fundamental principles of the technology in order to be skilled in their application and to be able to adapt rapidly with respect to technological changes the department has well equipped state of art laboratories in Analog Electronics, Digital Electronics, Industrial Automation, PLC, Microcontrollers lab with Hardware kit, Analog & Digital Lab, PCB DESIGN LAB,C-Programming, SCD LAB,BEEE LAB,BCS LAB,PC HARDWARE LAB.
STAFF DETAILS
| | | | | | |
| --- | --- | --- | --- | --- | --- |
| Sr. No. | Staff Name | Designation | Qualification | Experience | |
| 1 | Mrs VANISHREE R | H O D | BE | 15 years | |
| 2 | Mr VIVEKANAND | LECTURER | BE | 11 years | |
| 3 | Mrs SHARADHA N | LECTURER | M Tech | 07 years | |
| 4 | Mrs SUJATA PUJAR | LECTURER | M Tech | 02 years | |
| 5 | Mrs REVATHI R | INSTRUCTER | Diploma | 10 years | |
| 6 | NIVEDITHA | INSTRUCTER | Diploma | 02 years | |
| 7 | Mr.BHARATH | INSTRUCTER | Diploma | 1.5 Years | |
ELECTRONICS INSTRUMENTATION CONTROL - PLACEMENTS.
The Oxford Polytechnic has an elite placement division to facilitate the placements for all students.
The Placement Division also supports training in CV Writing, Aptitude Assessment, Mock interviews, Group Discussion ,Online tests,etc.,
The Placement division works with Corporates to learn about the recent requirements so as to work for the overall development of Students as per industry pre requisites.
DEPARTMENT OF ELECTRONICS INSTRUMENTATION & CONTROL

PLACEMENT STATISTICS
| | |
| --- | --- |
| Academic Year | No of Students Placed |
| 2015-16 | 20 |
| 2016-17 | 13 |
| 2017-18 | 15 |
| 2018-19 | 17 |
| 2019-20 | (Placement in Progress….) |
DEPAETMENT OF ELECTRONICS INSTRUMENTATION AND CONTROL –
PLACEMENT COORDINAORS
Sujatha (Lecturer, Dept. of EI)